the team
Instantly recognizable in Kodak gold and Sierra Nevada green, the Kodak Gallery Pro Cycling Team, presented by Sierra Nevada Brewing Co. is the undisputed fan favorite at race venues across the United States and Canada. Having each sponsored a professional cycling team for several years, Sierra Nevada Brewing Co. and Kodak EasyShare Gallery (then Ofoto, Inc.) agreed in the fall of 2004 to combine their resources in a new team that could bring both brands to a larger audience. The rest is history.
The 2007 Kodak Gallery Pro Cycling Team, presented by Sierra Nevada Brewing Co., is the first "carbon netural" pro sports team in the United States. The team has partnered with Renewable Choice Energy of Boulder, Colorado, to offset 100% of all carbon pollution the team generates with renwable wind power. The renewable energy credits (REC) offset all team athlete and management home electricity use, team transportation emissions, and all carbon pollution from team vehicles driven in support of nearly 120 days of racing in 2007.
The team's purcase of wind energy credits has the same impact as not driving 670,000 miles, planting 8,500 trees, or preventing the burning of 345,000 pounds of coal, according to statistics provided by the U.S. Department of Energy. Sierra Nevada Brewing Co. founder and president Ken Grossman commented, "We're proud of theleadership position the team has taken on this important issue and sincerely hope others will follow."
The 12-rider Kodak Gallery Pro Cycling Team, presented by Sierra Nevada Brewing Co. includes four holdovers from the 2006 campaign and eight newcomers. The 2007 roster is the strongest ever fielded by the team and includes the reigning Canadian National Road Champion, NORBA National XC Champion, US Cyclocross National Champion, U-23 US Cyclocross National Champion and a former 5-time Canadian national champion.

In its first year, the Kodakgallery.com/Sierra Nevada squad included four riders and one manager from each of Sierra Nevada's and Ofoto's 2004 teams, along with two new members.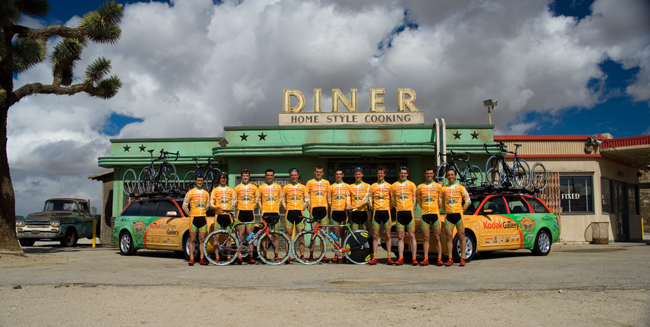 THE MANAGEMENT
Principal Sports Management Group LLC (PSMG), which manages the Kodakgallery.com/Sierra Nevada Pro Cycling Team, strives to operate the best cycling program in North America as a stable and profitable business that serves the needs of its sponsors and allows its athletes to compete at the highest level.

PSMG is co-owned by former pro cyclist Robin Zellner and 1990 USPRO Champion Kurt Stockton. For the 2007 campaign, seasoned marketing veteran Rob O'Dea has been added to the management team as director of marketing and public relations. The management team is focused on raising the bar on all aspects of team performance in professional cycling.