NEWS

DEC 04 | JAN | FEB | MAR | APR | MAY | JUN | JUL | AUG | SEP | OCT | NOV | DEC


JACQUES-MAYNES MOVES UP ON G.C., SCHMATZ 4TH IN REDLANDS STAGE 2

Redlands, Calif. (March 25, 2006) - The Kodakgallery.com/Sierra Nevada Pro Cycling Team did its best to take advantage of all available opportunities in today's second stage of the Redlands Bicycle Classic, and succeeded in moving Ben Jacques-Maynes from sixth to fifth overall and placing Dan Schmatz fourth in the stage.

Although the Health Net presented by Maxxis team controlled the pace from start to finish in defense of Nathan O'Neill's lead, Jacques-Maynes jumped off the front in the early going to snare a three-second time bonus and leapfrog Toyota-United's Justin England in the overall standings.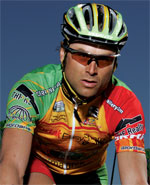 Dan Schmatz

At the finish of the 90-minute criterium in downtown Redlands, Kodakgallery.com/Sierra Nevada's Dan Schmatz avoided a last-lap crash and placed fourth in the stage, won by Health Net-Maxxis' Karl Menzies ahead of Brice Jones (Jelly Belly) and Vassili Davidenk (Navigators Insurance).

Kodakgallery.com/Sierra Nevada Racing Manager Jonas Carney said after the race, "The plan today was to get Ben an early time bonus and then help Dan in the finish, and that's what we were able to do. We're expecting tomorrow to be a race of attrition with Health Net-Maxxis controlling things from the front, so we'll look for opportunities to take a stab at a stage win."