NEWS

DEC 04 | JAN | FEB | MAR | APR | MAY | JUN | JUL | AUG | SEP | OCT | NOV | DEC


STEWART 2ND AT GARRETT LEMIRE GP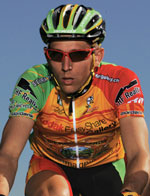 Jackson Stewart

Ojai, Calif. (April 2, 2006) - Representing the Kodakgallery.com/Sierra Nevada Pro Cycling Team at the Garrett Lemire Memorial Grand Prix, Jackson Stewart continued his impressive spring campaign with a well-earned 2nd place finish.

Early in the race, which covered 55 laps of a roughly one-mile circuit with a short hill, Kodakgallery.com/Sierra Nevada's Stewart and Pete Lopinto quickly found themselves in a chase group trying to bridge to what would become the winning breakaway. However, Lopinto simultaneously flatted and suffered a mechanical on the back side of the course just before they made contact with the leaders, and race officials returned him to the field - not to the breakaway - after his free lap.

Thus, with over 30 laps to go, Stewart was left without a teammate in a lead group containing Toyota-United's Mariano Friedick and Heath Blackgrove, Health Net p.b. Maxxis' Tim Johnson and Garrett Peltonen, Targetraining's Frank Pipp and Alejandro Acton, Jelly Belly's Caleb Mannion, and local amateur Karl Bordine of the Labor Power team.

A month ago, Stewart faced a similar situation in the McLane Pacific criterium in Merced, where he finished 2nd despite being the odd man out of a nine-rider break with four pairs of teammates.

This time, Stewart's odds improved as Johnson and Friedick were dropped, leaving Targetraining as the only team with two riders in the group. Taking advantage of this, Acton took the victory with a solo attack on the last lap, and Stewart edged Pipp for second.

Thinking back to his result at McLane, Stewart said, "I'm disappointed to lose again, but this is the first time I've had two NRC second-places in a month and I'm stronger than I've ever been."

Kodakgallery.com/Sierra Nevada General Manager Robin Zellner added, "Jackson really wanted to win, but this was one of his best rides this year. He looked strong the whole way, and I'm happy with the result."

Also earning a result this weekend was Kodakgallery.com/Sierra Nevada's Scott Zwizanski, who won the Tour of Walkersville in Maryland out of a three-man breakaway with a solo attack in the last kilometer.

Next up on the team's schedule is major objective at the Sea Otter Classic on April 8.

Said Stewart of the Kodakgallery.com/Sierra Nevada's chances there, "The team is coming along, but Sea Otter's a tough race and we'll need to ride smart. If we put it all together, we can win."