NEWS

DEC 04 | JAN | FEB | MAR | APR | MAY | JUN | JUL | AUG | SEP | OCT | NOV | DEC


STEWART 4TH IN SEA OTTER CIRCUIT RACE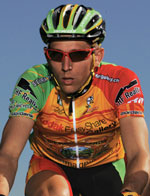 Jackson Stewart

Monterey, Calif. (April 8, 2006) - Kodakgallery.com/Sierra Nevada's Jackson Stewart placed fourth this afternoon in the Sea Otter Classic's Pro Circuit Race, which - at 31 laps of the 2.3-mile Laguna Seca racetrack - was the longest-ever edition of this difficult event.

After some exploratory early attacks, Kodakgallery.com/Sierra Nevada placed five riders in the front group after the race's first major selection - Stewart, Ben Jacques-Maynes, Dominique Perras, Mike Dietrich, and Jesse Anthony.

Since the start of the season, Jacques-Maynes has led the team and achieved the highest National Racing Calendar ranking of his career - 8th, as of April 5 - but today was not to be his.

"I went from feeling great to feeling zero. I had a big asthma attack, and within half a lap my body couldn't recover from any of the efforts I was making. These things happen and I've learned to accept them, but it's frustrating," he said afterwards.

Once the attack subsided, he found himself within striking distance of rejoining the front group, but in the company of perhaps the two fastest sprinters in the field - Alex Candelario (Jelly Belly) and Gord Fraser (Health Net p.b. Maxxis).

"I started to feel better, but there was nothing I could do. I didn't want to bring those two guys back in the mix," Jacques-Maynes recalled.

Meanwhile, Perras and Stewart held strong in the front group as the race took it toll, with Perras repeatedly covering attacks and Stewart waiting for the finish.

Eventually, the front group was was reduced to twelve riders: Stewart, Levi Leipheimer (Gerolsteiner), Jelly Belly's Matty Rice, Caleb Mannion, and Andy Bajadali, Health Net-Maxxis' Karl Menzies and Doug Ollerenshaw, and five riders from Spain's Team Orbea - the European counterpart to the SRAM-equipped Kodakgallery.com/Sierra Nevada program.

As the group came approached the bell lap, Jelly Belly's Matty Rice made an attack at the base of the climb that drew little response. After the descent, Stewart made a huge effort to close down the gaps that had opened, but it robbed him of a chance to take the sprint for second.

"I sat in and waited for the selections," Stewart said, "it and worked out since I was right there for the finish. But we had some bad luck with Ben's asthma, otherwise it would have been a different story for us."

Kodakgallery.com/Sierra Nevada Operations Manager Kurt Stockton added, "The guys rode well and did what they needed to. Jackson was outnumbered at the end and I was surprised that none of the other teams with more riders in the group took the initiative to chase."

Kodakgallery.com/Sierra Nevada's next race will be the Ford Tour de Georgia, April 18-23.