NEWS

DEC 04 | JAN | FEB | MAR | APR | MAY | JUN | JUL | AUG | SEP | OCT | NOV | DEC


KGSN REPORTS FROM GEORGIA CRITS, PREPS FOR TOUR OF THE GILA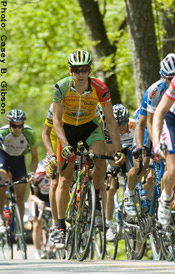 BJM t hrough woods at the Ford Tour de Georgia

(May 2, 2006) - Following the major athletic and organizational undertaking of the Ford Tour de Geogia, the Kodakgallery.com/Sierra Nevada Pro Cycling Team kept its focus in the Peach State for this past weekend's Athens Twilight and Nalley Historic Roswell Criterium.

Guided by Racing Manager Jonas Carney, Kodakgallery.com/Sierra Nevada fielded a team of five riders for Athens on Saturday night: Jackson Stewart, Scott Zwizanski, Jesse Anthony, Jason Allen and Martin Gilbert.

For Allen and Gilbert, the Twilight was their first appearance for Kodakgallery.com/Sierra Nevada after a winter season on the track with their national teams, but it ended quickly as both were taken down in a crash just a lap into the race.

"Jackson, Jesse, and Scott did a great job of being active and marking moves, but it was a negative race and it came down to a field sprint. Unfortunately, our best sprinter (Gilbert) was watching from the sidelines, but Jackson did a great job of freelancing and finished 9th," Carney reported.

For Sunday evening's race in Roswell, Ben Jacques-Maynes joined the fray, and was Kodakgallery.com/Sierra Nevada's best finisher in 13th.

"The guys did their best and it just wasn't a great day for us. But we have four races in four days from Wednesday to Saturday, and we'll pick it back up," said Carney, referring to the remaining races in the USA Crits series.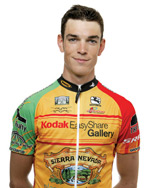 Mike Dietrich

While Carney and his crew will make their next appearance on May 3 in Walterboro, South Carolina, Kodakgallery.com/Sierra Nevada will also have three riders taking on a race at the opposite end of the cycling spectrum - the Teleperformance Tour of the Gila, noted for its high-altitude climbing in the arid New Mexico desert.

Dominique Perras, Mike Dietrich, and Skyler Bishop will represent the team, with Dietrich looking to improve on his 10th place overall finish in last year's race.

"It's a good race for me - lots and lots of climbing," he said, "and I'm looking forward to having a great climber like Dom and a really powerful rider like Skyler to go to work with."

The USA Crits series continues through Saturday, May 6, and the Tour of the Gila runs through May 7.