NEWS

DEC 04 | JAN | FEB | MAR | APR | MAY | JUN | JUL | AUG | SEP | OCT | NOV | DEC


GILBERT WINS RALEIGH TWILIGHT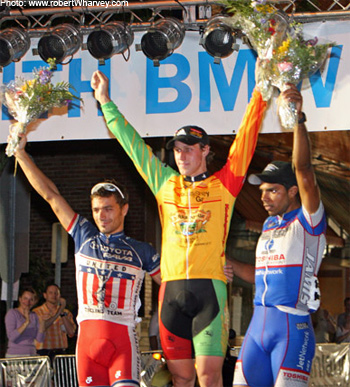 Martin beat out Stevic and Travieso

Raleigh, NC (May 26, 2006) - Martin Gilbert of the Kodakgallery.com/Sierra Nevada Pro Cycling Team scored the team's first National Racing Calendar victory of the season at this evening's Leith BMW Criterium in downtown Raleigh.

Racing in treacherous conditions - at night and in the rain - Gilbert bridged up to Toyota-United's Ivan Stevic midway through the 50-mile race, and they were soon joined by Frank Travieso (AEG-Toshiba-JetNetwork).

The multinational trio - representing Canada (Gilbert), Cuba (Travieso), and Serbia (Stevic) - stayed together until the finish, where Gilbert comfortably took the sprint ahead of Stevic.

Kodakgallery.com/Sierra Nevada Racing Manager Jonas Carney commented that, "Martin was really impressive tonight - not just winning the race, but beating a really crafty rider like Stevic who's won a ton of races, and a sprinter like Travieso. For Kodakgallery.com/Sierra Nevada, this is a big win and it's exactly how we wanted to get started with this set of races."

After representing Canada on the world track cycling circuit throughout the spring, Gilbert has hit the ground running in his road campaign with Kodakgallery.com/Sierra Nevada, which has high hopes for its young French Canadian sprinter.

The team's East Coast road trip continues tomorrow at the Kelly Cup in Baltimore.