NEWS

DEC 04 | JAN | FEB | MAR | APR | MAY | JUN | JUL | AUG | SEP | OCT | NOV | DEC


STEWART WINS LANCASTER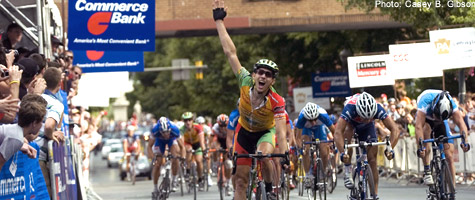 Lancaster, Penn. (June 4, 2006) - With perfect teamwork helping to open a huge gap in the final sprint, Kodakgallery.com/Sierra Nevada's Jackson Stewart took the biggest win of his career at today's Tom Bamford Lancaster Classic, the 91-mile opener of the "Philly Week" races now known as the Commerce Bank Triple Crown.



Scott Zwizanski

As the field, reduced by 13 trips up the course's climb through Lancaster's Central Park, entered the race's final kilometer, Kodakgallery.com/Sierra Nevada's Scott Zwizanski singlehandedly powered past the leadout trains of pre-race favorites Totyota-United and Health Net-Maxxis.

With Stewart on his wheel followed by the team's designated sprinter Martin Gilbert, Zwizanski held the front until 500 meters from the line.

There - in the race's decisive moment - Stewart made a huge acceleration intended to bring Gilbert to the line, but Gilbert sensed that he wasn't at his best and allowed a gap to open.

By the time the field reacted, Stewart was out of reach as J.J Haedo (Toyota-United) settled for second ahead of Sergey Lagutin (Navigators Insurance).

"With four laps to go, I was just hoping to finish in the field, then all the way up the finish stretch I was just waiting for Martin and all the sprinters to swarm me," he recalled. "I've always thought I could win a race like this but I didn't expect to today. This is a huge win for me and our team!"


Jackson Stewart on the podium with Haedo and Lagutin

For the 26 year old, it was the breakthrough win of an impressive season that began with a strong showing at the Amgen Tour of California, including the Adobe Most Aggressive Rider jersey on Stage 1 and an 8th place finish in the race's longest stage, followed by 2nd place at the McLane Pacific criterium, 2nd place at the Garrett Lemire GP, and 4th place in the Sea Otter Classic.

Nonetheless, Stewart's only victory of 2006 came two weeks ago in a local criterium in Northern California.

"This is that elusive win," said Kodakgallery.com/Sierra Nevada General Manager Robin Zellner. "He's been waiting for this and now that weight is off his shoulders. You'll see so much more out of him now."

Racing Manager Jonas Carney added praise for Zwizanski, noting that "Scott won the race for us. He was so strong at the end and just handed it to Martin and Jackson."

CAPTECH CLASSIC AND CSC INVITATIONAL

For Kodakgallery.com/Sierra Nevada, today's win in Lancaster was the perfect response to frustrating outings at the CapTech Classic on Thursday in Richmond, Virginia and yesterday's CSC Invitational in Arlington, Virginia.

In the CSC race, Kodakgallery.com/Sierra Nevada did a good job of staying near the front and out of trouble in one of the hardest and most technical criteriums of the season, but sprinter Dan Schmatz was caught behind a crash near the finish, leaving an out-of-position Stewart as the team's best hope.

"A lot of the top sprinters were out of the race and at that point there were only about 20 guys left in the field, but I didn't put myself in the right place and ended up sprinting for 10th," said Stewart.

At CapTech, Ben Jacques-Maynes looked comfortable in the winning break of five riders until an asthma attack with 8 laps to go took him out of the race. After waking up the next day with a mysteriously sore knee, he opted out of CSC, Lancaster, and Thursday's Reading Classic but should return for next Sunday's Philadelphia International Championships.

"I know my form is great but the body's acting up in weird ways," said the Kodakgallery.com/Sierra Nevada captain.