NEWS

DEC 04 | JAN | FEB | MAR | APR | MAY | JUN | JUL | AUG | SEP | OCT | NOV | DEC


PHILLY NATIVE ZWIZANSKI LEADS KGSN IN TRIPLE CROWN FINALE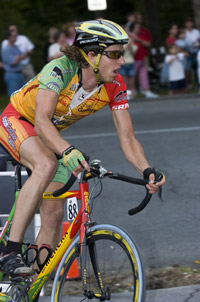 Scott Zwizanski in Thursday's Reading Classic

Philadelphia, Penn. (June 11, 2006) - After almost 150 miles of racing and with less than 10 miles to go, Philadelphia area native Scott Zwizanski of the Kodakgallery.com/Sierra Nevada Pro Cycling Team found himself among the elite of the Philadelphia International Championships, but wasn't content just to have made the selection.

"After the last time off the Manayunk Wall, I tried a few attacks but nothing was getting away," Zwizanski recalled. "Jonas [Carney, the team's racing manager] said to save it up for one big attack, but there were no real opportunities because the sprinters' teams had things under control."

Despite his admitted lack of a sprinter's kick for pack finishes like today's, Zwizanski tried his best to stay near the front of the roughly 30-rider lead group at the end, but was caught behind two crashes on the long finishing straight on Ben Franklin Parkway.

Still, the 29 year old from West Chester was satisfied, noting "It's only my second year doing this race, and I think I've got a few more years."

On the day before his 21st birthday, Kodakgallery.com/Sierra Nevada's Jesse Anthony put in yet another impressive performance, doing excellent work all day on Zwizanski's behalf and then leading home the second group for most of the last 10 miles.

"Jesse's really stepping up. It's going to take him a couple years, but he just needs to keep doing what he's doing and he's got the talent to win races like this," said Kodakgallery.com/Sierra Nevada Racing Manager Jonas Carney.

In addition to Zwizanski, Kodakgallery.com/Sierra Nevada's other protected rider today was Jackson Stewart, who won Sunday's Lancaster Classic to kick off the inaugural Commerce Bank Triple Crown.

Stewart had a tough day and failed to make the selections near the finish, but he did hang on for third place in the Triple Crown points standings.

The team's season picks right back up on Wednesday with the Nature Valley Grand Prix in Minnesota.