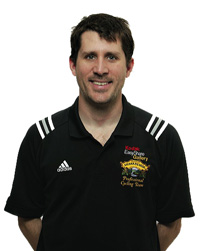 Hometown: Annandale, New Jersey
Residence: Milwaukee, Wisconsin

After 15 seasons on the domestic racing scene, Kodakgallery.com/Sierra Nevada Racing Manager Jonas Carney, 34, is uniquely qualified for the responsibilities of developing the race schedule, managing the team on the road, and executing its race day strategy.

Having retired at the end of the 2004 season, Jonas says that, "After a year away from racing, the chance to join Kodakgallery.com/Sierra Nevada was the right opportunity at the right time."

His racing career began at the tender age of 8 on the Lehigh Valley Velodrome in Trexlertown, Pennsylvania. By the time his junior career drew to a close, Jonas had won eight national championships, recorded two top-five finishes at the world championships, and was a member of a juniors team affiliated with the 7-11 pro team, the first American outfit to compete in the Tour de France.

In his first year as a senior, 1990, Jonas began a 2-year stint with the Subaru-Montgomery team, before switching to the Coors Light team in 1992. Jonas also raced for Saturn (1994), Shaklee (1996-2000), and Prime Alliance (2001-2003). Racing with Jelly Belly in 2004, Jonas retired as the USPRO Criterium Champion, a title that he won twice as a pro.

Having thus been a member of some of domestic cycling's legendary teams, Jonas hopes to apply his vast experience to the young Kodakgallery.com/Sierra Nevada squad.

"I'm looking forward to challenging our riders to race like a team," he says, "and collectively exceed their potential. I've been on teams that have raced that way and I know that this team has what it takes."

Jonas lives with his girlfriend, Justina, and their two Siberian huskies in Milwaukee, Wisconsin. In his spare time, he snowboards, plays the drums, and is starting a band.