NEWS

DEC 04 | JAN | FEB | MAR | APR | MAY | JUN | JUL | AUG | SEP | OCT | NOV | DEC


SCHMATZ 3RD AT SOMERVILLE, TEAM WRAPS UP STRONG WEEKEND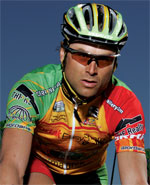 Dan Schmatz

Somerville, New Jersey (May 29, 2006) - In reference to a Memorial Day weekend that began with the team's first NRC win of the season and concluded with a well executed team chase and leadout to place Dan Schmatz third at today's Tour of Somerville, Kodakgallery.com/Sierra Nevada Racing Manager Jonas Carney said, "We took a big step forward as a team this weekend."

Indeed, Martin Gilbert's win at the Leith BMW Downtown Raleigh Criterium on Friday night was just the beginning of Kodakgallery.com/Sierra Nevada's successful buildup to Somerville, the 66-year-old New Jersey classic that Carney himself won five times.

Late in the the 50-mile race, Kodakgallery.com/Sierra Nevada's Jackson Stewart found himself in a six-rider breakaway but, as Carney said, "it was not a good combination for us and Jackson didn't make the split."

So, with two capable sprinters in Schmatz and Gilbert, the team went to the front and and began the chase in earnest to close down the break's lead of 25 seconds with five laps to go.

Although Kodakgallery.com/Sierra Nevada's chances for the win took a major blow when they lost Gilbert to a mechanical with four laps left, they continued the chase, caught the leaders, and set up Schmatz for the finish, where he led out the sprint but was passed by winner Juan Jose Haedo (Toyota-United) and Kyle Wamsley (Colavita-Sutter Home).

Still, it was an powerful ride by the team and an impressive result for Schmatz, who just over five weeks ago survived a serious run-in with a vehicle while training near the Ford Tour de Georgia.

"I'm not feeling any pain or injuries still, but I am missing some fitness from the time off the bike. So I'd say I'm about 90%," he said. "Maybe if I was 100% or if we had Martin for the finish, we would have come out a little higher up on the podium. But the team did an awesome job today of executing the plan and setting it up for me at the finish."



Jason Allen

On Saturday at the Kelly Cup in Baltimore, Kodakgallery.com/Sierra Nevada was represented in all the major breakaways of the day, including the winning move that featured Jason Allen and barely held off the field at the finish. Allen finished fourth behind Wamsley, Hilton Clarke (Navigators Insurance), and Alejandro Acton (Targetraining).

For Allen, it was his best result with Kodakgallery.com/Sierra Nevada since returning stateside in late April after his winter racing season with the New Zealand national track program.

Back in the Bay Area on Sunday, Ben Jacques-Maynes, who won the ST Bikes Cat's Hill Classic on May 13, took another victory in a NorCal classic at the Five Wire Inc. Mt. Hamilton Road Race.

After wining the KOM at the top of the 20-mile, 4,500-foot climb and closing down numerous attacks in the closing miles, Jacques-Maynes took the sprint ahead of Lombardi Sports' Billy Innes out of an 8-rider group.

For pictures, check Ben's Kodak Gallery Premier page